Check the brushes are spinning round
Switch the cleaner on and press the brush control switch to 'on' - Push the button indicated in the picture with the green arrow. (the brushes will only spin if switched on)
Look through the clear window to see if the brushes are rotating. If they are not turning round, the cleaner will not pick dirt and debris up and this may be due to the belt breaking or a build up of debris around the brushes.
Before doing any further checks please UNPLUG the cleaner from the electricity supply.
To get to the belt turn the cleaner over and prize out the 2 little roller wheels as shown. The screws for the brush cover are found underneath the wheels. Flick them out with a flat screwdriver.
use a screwdriver to push out the wheels there are 2 - one on each side, keep these somewhere safe.
Using a standard Phillips head screwdriver loosen the 2 screws found in the wheel recess.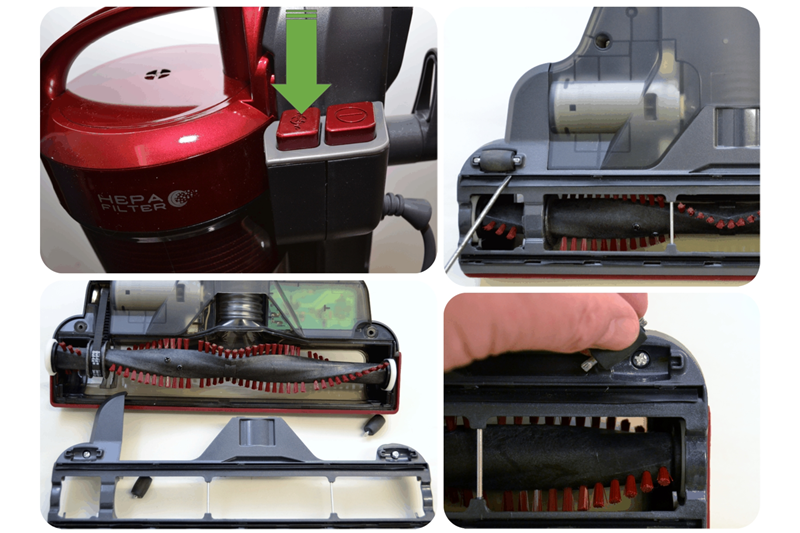 Once the two screws have been removed pull the brush cover off. Check the belt has not broken (shown on the left in the above picture) If its broken replace with a new belt which can be purchased from the spares section on our website or ringing our dedicated spares team. Clean any build up of hair or threads around the brushes which will stop your Velocity cleaner from picking up effectively so remove anything tangled up in there.
Always disconnect your appliance from the mains before you start examining it!